ComplyTraq, LLC

1640 Airport Road, Suite 115
Kennesaw, Georgia 30144
(800)849-4960
info@complytraq.com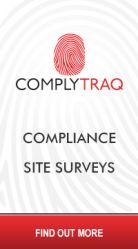 ComplyTraq, LLC is a joint venture between MicroBilt Corporation, premier provider of decision critical data and credit industry veteran and attorney, Oscar Marquis. The company provides robust FCRA compliance, credentialing, audit and training services to the credit and data industries. Oscar Marquis, who worked at Trans Union for almost 25 years with 15 years as General Counsel, is a partner at Oscar Marquis & Associates, law firm (www.omarquislaw.com).

The joint venture was formed to serve the growing need for compliance and auditing within an industry that is under increasing pressure for state and federal regulation related to FCRA issues. Through the combined experience of MicroBilt teamed with Marquis and as regulation increases, the joint venture assists organizations with compliance and auditing.

MicroBilt Corporation has served the credit industry since 1978 offering data access most recently through their flagship website at www.CreditCommander.com. MicroBilt's experience in compliance verification including site surveys, audit procedures as well as FCRA, GLBA, DPPA and credit bureau requirements, partnered with Marquis' knowledge, creates a comprehensive resource for compliance guidance.

Marquis serves as Managing Member for the joint venture. Marquis is an expert on privacy and fair information practices, including the development of company policies governing the use and distribution of public and non-public data and the use of customer information. He has participated on behalf of clients with self regulatory organizations, represented information services companies and users of consumer information before various regulatory agencies, participated in state and federal hearings on privacy topics, and helped with the development and implementation of procedures for compliance with laws such as the Gramm-Leach-Bliley financial privacy regulations, the EU Data Protection Directive, the Fair Debt Collection Practices Act and the Fair Credit Reporting Act. He has also worked with financial institutions and their compliance with state and federal credit and collection laws.

ComplyTraq is committed to assisting organizations handling consumer information with compliance requirements and aid in the protection of public and private data.