Arkansas Debt Collection Laws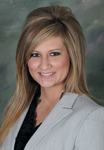 Morgan S. Doughty
Submitted by Morgan S. Doughty, Associate Attorney, Hood & Stacy, P.A.
Published by The National List of Attorneys
Since 1981, Hood & Stacy, P.A. has been serving the needs of a broad range of clients in the areas of creditor bankruptcy, commercial and retail collections, mortgage foreclosures, landlord-tenant relations, corporate business, wills, probates, and real estate. Our lawyers are committed to servicing our clients by performing legal work in the states of Arkansas and Oklahoma. We know there are many choices when choosing a law firm, but the attorneys and staff at Hood & Stacy can offer specific advantages that other firms cannot. Some of our advantages are Location, Experience, Diversity, Technology, and Personalized Service.
Ms. Doughty graduated from the University of Arkansas in 2007 with a degree in International Economics & Business and a minor in Marketing. She obtained her Juris Doctorate from the University of Arkansas in 2010, where she served as a Note & Comment Editor of "The Journal of Food Law & Policy" and graduated with honors. She is licensed to practice in the state of Arkansas and the Federal Courts for the Eastern and Western Districts of Arkansas.
I. Fundamental Debt Collection Laws in Arkansas
a. Statute of Limitations for written contracts and domestic and foreign judgments
In Arkansas, the statute of limitations for a written contract is five years from date of default. Ark. Code Ann. § 16-56-111 states:
(1) Actions to enforce written obligations, duties, or rights, except those to which § 4-4-111 is applicable, shall be commenced within five (5) years after the cause of action shall accrue.
(2) However, partial payment or written acknowledgment of default shall toll this statute of limitations.
The five-year statute of limitations applicable to written contracts applies to credit card debts. See Born v. Hosto & Buchan, PLLC, 2010 Ark. 292, 18-19 (Ark. 2010) (citing In re Pettingill, 403 B.R. 624 (E.D. Ark. 2009)). This is because credit card agreements are based upon a written contract. Credit cards are issued to a credit applicant "to be accepted…in accordance with the terms and conditions set forth by the card member agreements or to be rejected by the [credit applicant's] non-use of the credit cards. The issuance of the card was an offer and the contract became binding when the [credit applicant] retained the card and made use of it and thereby agreed to the terms of the written agreement." In re Pettingill, 403 B.R. 624, 628 (Bankr. E.D. Ark. 2009) (citing Citibank South Dakota N.A. v. Santoro, 210 Ore. App. 344, 349, 150 P. 3d 429, 432 (2006)).
Download the complete white paper Arkansas Debt Collection Laws.