Ohio Debt Collection Laws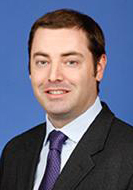 Brian Block
Submitted by Brian Block of Javitch, Block & Rathbone LLC
Published by The National List of Attorneys
Javitch, Block & Rathbone LLC is a creditors' rights law firm with over 20 years of experience. Our staff of highly-trained professionals work together in order to maximize our clients' returns efficiently and compliantly in the areas of retail and commercial collections, bankruptcy, landlord-tenant, litigation, and insurance subrogation.
Brian Block is the Partner in charge of the Consumer/Commercial Collections practice. He has been a Partner with Javitch, Block and Rathbone LLC since 2008 and has been with the firm since his admittance to the practice of law in 2003. He received his JD from the Cleveland Marshall College of Law in 2003 and a BA in both English and Speech Communications from Indiana University in 2000. Currently he is serving his third term on the Board of Directors for the National Association of Retail Collection Attorneys (NARCA). He is also a member of the Northern Ohio Creditors Association, Ohio Creditors Attorneys Association and the Debt Buyers Association."
JB&R's superior technology provides clients with effective results. Our proprietary software features reporting capabilities that allow our clients secured internet access to their files for auditing and review. JB&R takes pride in its history of high recovery percentages, attorney involvement throughout the life of a file, document management solutions, and post-judgment recovery programs.
JB&R handles accounts in Ohio, Indiana, Kentucky, Tennessee, Texas, and West Virginia, providing both effective pre- and post-suit collection strategies, as well quality legal representation on behalf of its clients. JB&R is an active member of a variety of professional organizations and numerous bar associations.
Statute of Limitations
An important initial step in analyzing a debt collection matter in Ohio is determining the applicable statute of limitations ("SOL"). The applicable SOL under the Ohio Revised Code ("O.R.C.") are as follows:
Sale of Goods. Within four (4) years after the cause of action has accrued. O.R.C. § 1302.98.
Promissory Note. Within six (6) years after the due date or if accelerated, within six (6) years after the accelerated due date. O.R.C. § 1303.16.
Oral Contract/Accounts. Within six (6) years after the cause of action has accrued. O.R.C. § 2305.07.
Witten Contract. Effective September 28, 2012, the SOL decreased from fifteen (15) years to eight (8) years after the cause of action has accrued. Creditors have 8 years from the date of the enactment to sue, unless the old SOL arises sooner. O.R.C. § 2305.06.
Download the complete white paper Ohio Debt Collection Laws.